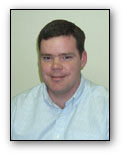 My name is Graham Powell. I was born on December 12, 1968, which makes me 38 years old. I live in Fort Worth, Texas, with my wonderful wife and three terrific children(can you tell my wife is watching as I type this?). My job title is Network Administrator; I run the local- and wide-area-networks for an oilfield service company called Brammer Engineering. Brammer does E&P outsourcing. For more details visit the Brammer website.
And if you want to know more about me, here's a handy link list:
Biography – a history of Boog from ancient times to the present.
How I Became Boog – who hung this handle on me – and why.
The Real Boog Powell – my namesake, by all accounts a swell guy (whouda thunk?).