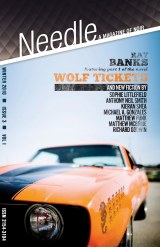 I have a story in the latest issue of Needle Magazine. It's called "Cold Storage" and it's a nifty little story about a heist gone wrong.
I got the idea from an urban fantasy/horror story I read many, many years ago, in which the bad guys were ghouls and the private-eye hero was a shapeshifter of the type most people would call a werewolf (sorry, the title and author have vanished in the mists of my mind).
So I started with that and wrote what I thought would be a straighforward pastiche of Richard Stark's Parker, but took a wrong turn into comedy when I introduced a wiseass safecracker named Louis Mendoza. He's based on a former co-worker of mine. If you just saw him around the office, where he wore a fairly somber expression, you wouldn't think he had any sense of humor at all. But once you got to know him he was one of the funniest people I've ever seen.
As usual with my "funny" stories, it's really just a straightforward crime story with a bunch of jokes larded in. One big twist in the middle, and I think I pulled the rug nicely at the end.